Organizing Board
The Organizing Board is responsible for organizing logistical, financial and human capital aspect of the Sarajevo Model UN conferences. The Organizing Board conceptualizes, secures funding and acquires logistics, all in order to provide the best experience for conference participants. This team is the backbone of every successful conference/project.
For inquiries related to conference logistics, finances, or similar affairs, please reach out to the Organizing Board via email: ob.sarajevomun@gmail.com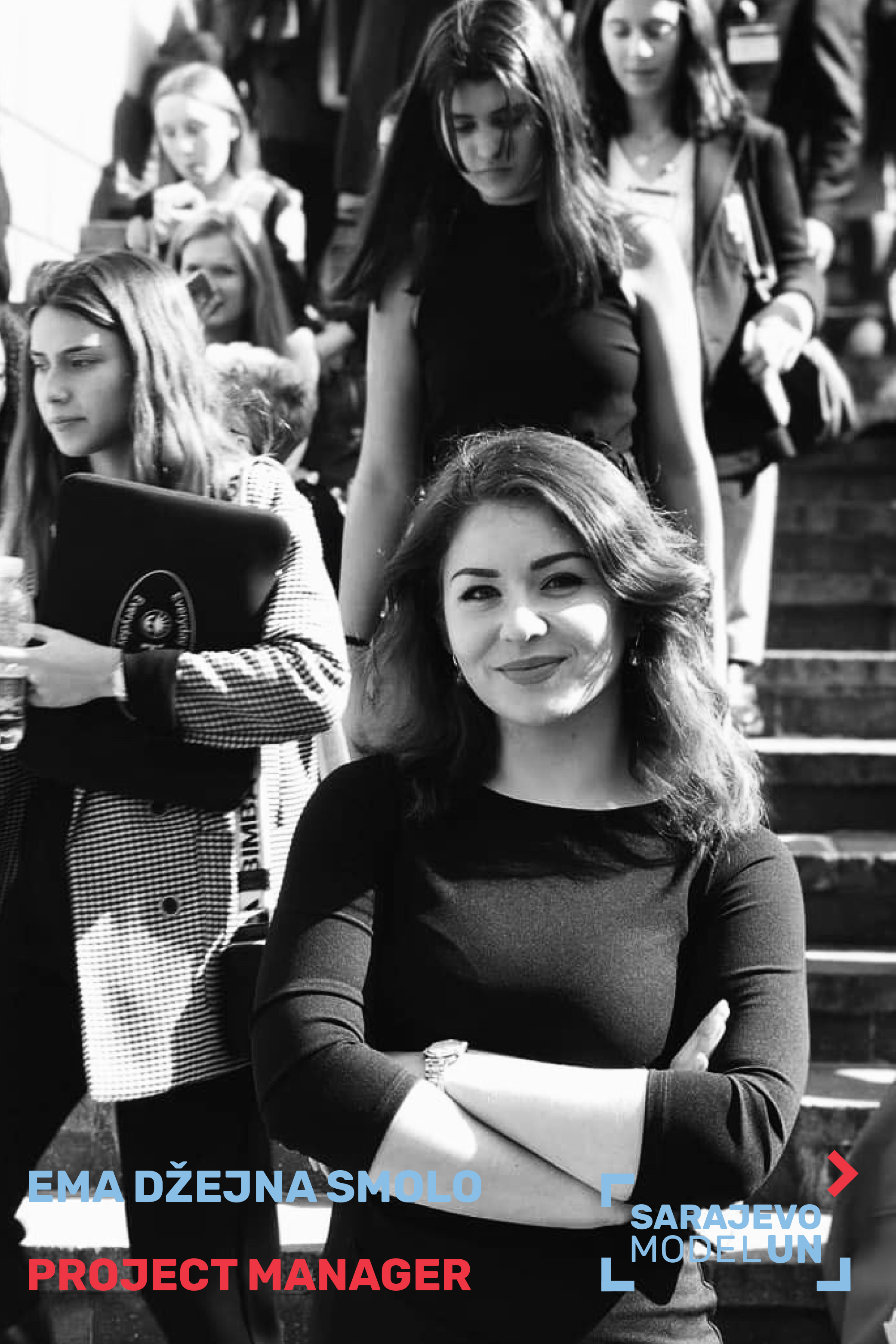 EMA DŽEJNA SMOLO, Bosnia and Herzegovina
Project Manager
Ema Džejna (or MJ, for short) is a student of International Relations and Diplomacy at the Faculty of Political Sciences in Sarajevo with experience in project assistance, public relations and academic research. Sarajevo MUN was the first conference she attended, after which she quickly achieved recognition in other MUNs, as an awarded delegate and chairperson. Ema is a self-proclaimed bookworm with a refined taste for history and politics related humor, and she is more than happy to help gather ambitious, young professionals in such a soulful city like Sarajevo.
Resigned on September 13, 2019
BELMIN ZUKAN, Bosnia and Herzegovina
Conference Manager
Belmin Zukan is currently an MA candidate at the Faculty of Law Sarajevo. He works as a legal trainee for Miljkovic & Partners, and has throughout his studies pursued interests for different topics such as history, international and domestic politics and constitutional law. During his undergrad studies he served as Secretary General and Vice-president of ELSA Sarajevo, where he gained experience in conference management and organization. Belmin's interests range far and wide, from good old fashion reading to exploring traditional dances of B&H and the Balkans region. His position at Sarajevo MUN this year coincides perfectly with his goal of making our conference a memorable and fulfilling experience for all participants. And for all history related fun facts - he's your go to person!
Resigned on September 13, 2019
AMINA IBIŠEVIĆ, Bosnia and Herzegovina
Communications Director
Amina Ibišević is a fellow undergraduate at Sarajevo School of Science and Technology, in the field of Political Science and International Relations. MUNs are for her an opportunity for exploring different possibilities and pushing one's own limits. Being the avid reader that she is, with a spark for creative and academic writing, she was the most fitting choice for our position of Communications Director. To this day, Harry Potter remains one of her favorite series ever read (and P.S. she is sorted in Slytherin).
LANA KULINA, Bosnia and Herzegovina
Director of Public Relations
Lana Kulina, born and raised in Sarajevo, studies linguistics in The First Gymnasium in Sarajevo. For several years now, she has been working in non-governmental organisations, both local and regional. Lana has experience in public relations, project management, event planning and moderation. Sarajevo MUN was one of many MUN conferences she attended last year, but still remains her favorite. Her interests are found in the media, youth work, politics and anything Harry Potter related. Lana describes herself as an ambitious, communicative and responsible person. She enjoys long conversations about controversial topics and is always prepared to help. Unlike many of her peers, she is a workaholic. She can not imagine spending her days without at least one report to write or meeting to attend.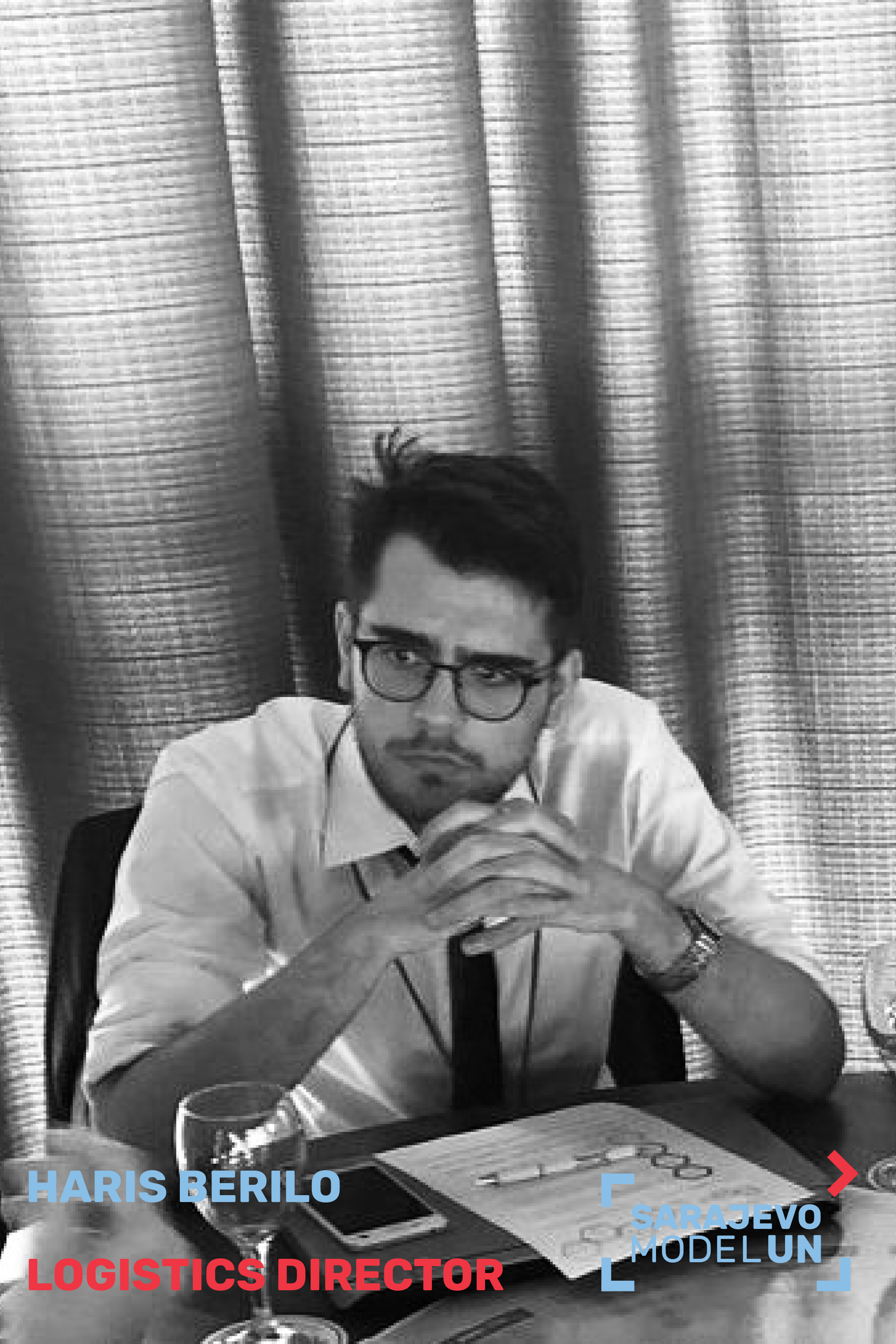 HARIS BERILO, Bosnia and Herzegovina
Logistics Director
Haris Berilo is a student of Computer Sciences at the International University of Sarajevo. Although a computer engineer and programmer ("nerd" and denizen of the Internet foremost), politics and debates have been a topic close to his heart for a long while. Proficient in English, he has met a lot of people who have helped him broaden his horizons and expand his interests to areas regarding natural, social sciences as well as, as of this year, logistics.
Appointed as Acting Project Manager on September 24, 2019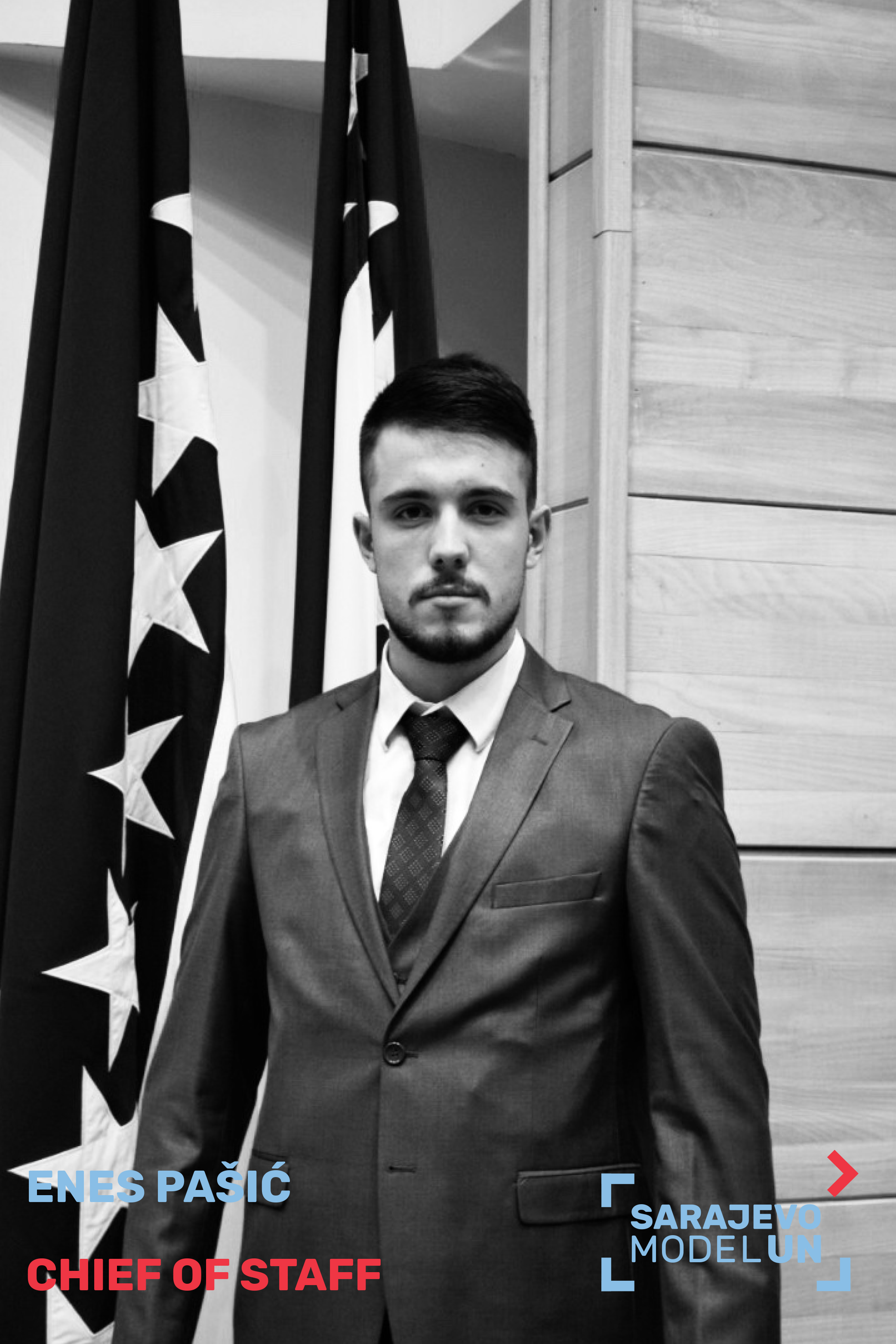 ENES PAŠIĆ, Bosnia and Herzegovina
Chief of Staff
Enes Pašić is a nineteen-year-old from Sarajevo who will serve as Chief of Staff this year at the Sarajevo MUN. He recently graduated from the First Gymnasium in Sarajevo. At the beginning of 2018 he participated in the project "DOBA" - simulation of the proceedings of Parliament in BiH, where he obtained diplomatic skills. Soon after "DOBA", he participated in the following MUN conferences: MOSTiMUN in Mostar, MUNSC Salient in Ljubljana, as well as Sarajevo MUN. He participates in the regional youth exchange under the Erasmus+ program in Murska Sobota (SLO). Currently, he serves as the President of NGO Balkanac Bosnia and Herzegovina.
Dismissed from duty on September 26, 2019
ASJA ČAMPARA, Bosnia and Herzegovina
Social Events Director
Asja Čampara is an ambitious and creative high school student who wants to be heard and believes that every young society member deserves a chance to state their mind. I can call myself a truly hardworking and dedicated young person, however I tend to be shy around new people, but when I start talking I don't stop! My friends call me Mjesec (Moon) - you will know why once you get to know me. :)